Researchers: NMC and NMCR welcomes research visitors to the collection. Please contact us ahead of time to make arrangements. In general it is best to make arrangements with Sara Fuentes-Soriano at least 24 hours prior to visiting the collection. Access may be obtained after an orientation. The collection includes working space, materials, and dissecting microscopes for most herbarium related research needs.
Plant Enthusiasts and School Groups: Tours for groups of native plant enthusiasts and schools are welcome, but please make arrangements at least one week beforehand. Please contact Sara Fuentes-Soriano with questions and/or to schedule a visit.
Directions and Parking: For those coming from out of town exit Interstate 10 or 25 at University Ave. From Interstate 10 proceed east 0.5 miles along University Ave, turn right on Espina and left on Horseshoe. From the Interstate 25 follow University Ave west ca. 1.5 miles to Espina and turn left, then left on Horseshoe.
Once on campus, the collection is located in Room 105 of the Biology Annex. The Biology Annex is roughly 200 m east of the main Biology Building (Foster Hall). Campus map including the location of the Biology Annex relative to the NMSU Horseshoe and Foster Hall can be viewed on NMSU Maps. NMSU offers visitors free parking permit through the Parking Dept.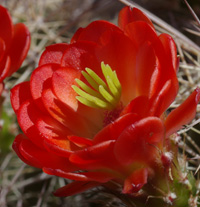 Visitor Guide
Prior to Arrival: we strongly suggest contacting the Curator to make an appointment to ensure that a staff member will be available to meet and orientate you to get the most out of your visit.
Upon Arrival: Please check-in with the Herbarium curator.
Remember to sign the guest book immediately upon arrival, and again each morning if visiting the herbaria for more than a single day.
No food or beverages are permitted inside the collections areas. Laws prohibit smoking inside or within 25 feet of the building.
In order to control herbarium pests, incoming specimens are frozen for at least seven (7) days. Users of the collection who wish to bring specimens with them into the herbarium must contact herbarium staff prior to their arrival. If this is impossible, please contact a member of the herbarium staff to make other arrangements (see address and phone numbers below).
Use of the Collections: Herbarium cases should be completely closed and securely locked when not in use.
Specimen folders should always be kept in a horizontal position when removing them from the cases. Herbarium sheets should be handled specimen side up and supported underneath by a piece of cardboard or other stiff material. Never turn or flip over specimens like pages in a book. Never carry specimens under your arm unless they are snuggly secured in a folder tied up with a string.
Material such as pollen, leaves, and wood must not be removed from herbarium specimens without prior written consent; refer to the Destructive Sampling Policy on the website for details. Dissections or loose plant fragments should be put into packets attached to the sheet. Additional packets are available from the staff.
Visiting Specialists are encouraged to annotate specimens using permanent archival ink on annotation labels (remember no ballpoint pens). Good quality pens and blank identification labels printed on acid-free paper are available from the herbarium staff. Besides the taxon's name, determination slips should include the specific plant family, the identifying person's name (no abbreviations), affiliation (e.g., using an Index Herbariorum acronym if possible) and the date of annotation (day and month preferred over only writing the year). For well-represented taxa requiring more annotations, you can paperclip annotation labels to piles or folders and the staff will glue them down to the sheet to save you valuable time (we want those dets.). No gluesticks, If you are rushed for time the staff can produce duplicate identification slips for you (and also glue them down to the sheets after you leave), but you must clearly mark all folders/piles of larger annotation jobs with your name, the date, and what needs to be done for each group of specimens before you leave.
Specimens that you would like to receive on loan should be set aside and clearly labeled with your name, institutional address, and any other special instructions. The Curator of the NMSU herbaria must receive a formal written request for the loan from the director of your herbarium before the loan will be shipped.
A large collection of botanical literature is available upon request but please do not remove any books or journals from the herbarium without asking staff for authorization first.
Visitors are asked to adhere to the same destructive sampling policy that applies to our loan policies.
New Mexico State University Herbaria (NMC and NMCR)
Biology Annex Bldg.
3080 Williams Avenue
P.O. Box 3AF
Las Cruces, New Mexico 88003-0003
U.S.A.
Phone: 575.646.3732 | 575.646.5322
Fax: (575) 646-5441
Database

In general all of our label data is available online
For additional information, please contact Sara Fuentes-Soriano.